Grom's January Holiday Program
We'll be meeting this month for various fun activities, before the school holidays end! Parents are required to accompany minors, and it's open to youth aged kids as well! Anyone in primary or secondary school is welcome.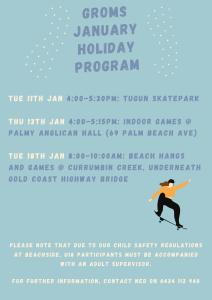 Get In Touch
Other Events
Christian Educators Arise 2022 Gathering Christians together from local Gold Coast schools, both State and Private, for a time of worship, testimony, commissioning, prayer and encouragement at the start of 2022.